Wild on the Inside's Holiday 2011 collection is ready to go to suit all your holiday parties and events in Faux Fur!!
Try one of the new designs or add a piece to your wardrobe!
Fur lined hoods, fur trimmed santa chaps and much more!! All of these items can be made in
Green
with
Red
trim too!!
Check out the Wild on the Inside Holiday Collection for yourself... or that special someone!!
Santa Con Upcoming Dates:
The first
SantaCon
took place in San Francisco in
1994
and was sponsored by The San Francisco Cacophony Society.
Now, Santacon has been going on for 16 years. Be a part of the history and pick up an inspired Holiday Look in Faux Fur from Wild on the Inside!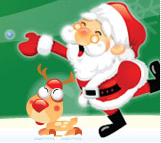 Las Vegas
Friday Dec 9th
San Francisco
Sat Dec 10th
New York
Sat Dec 10th
Los Angeles
Sat Dec 17th
Special Orders now being accepted to co-create your vision?
Have a unique idea in mind?
Special color combinations?
Hoodie Vests
Faux Fur Coats
Built in Hydration Vests
Faux Fur Chaps
Winter White Faux Fur Capelet
... what is in your imagination?
Link to Wild on the Inside's Holiday Webpage